About
Alpha House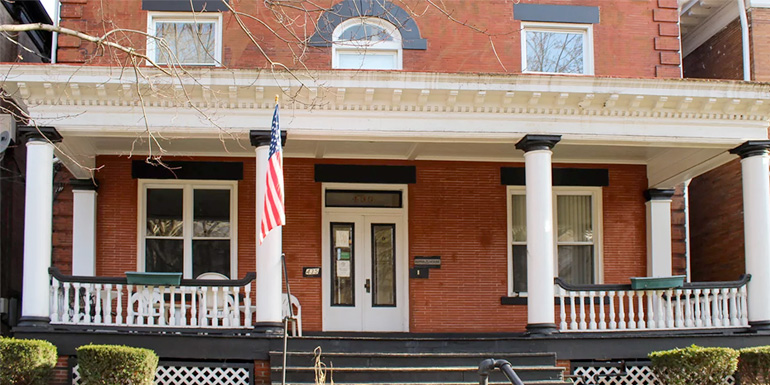 Alpha House has provided community-focused substance-use disorder treatment in the heart of Pittsburgh since 1971. For fifty years, Alpha House continues to ascribe to the same individualized care and commitment shared by its founders, all within a home-like environment.
What started with a small group of caring men and women has evolved into a licensed thirty-bed inpatient facility, and outpatient program. Alpha House is a non-profit residential treatment community that employs a "whole person" approach to recovery. We are a place of healing where residents can reconnect with themselves and others, working together to build a life of meaning, purpose, and long-term recovery.
While at Alpha House, residents address the underlying issues that impact their substance use: negotiating family issues, receiving educational and vocational resources, obtaining referrals for health and social services, and learning other necessary life skills. Our staff help to shape the future of those who come to us seeking guidance and acceptance, acknowledging the person for who they are, as they are, and meeting them where they are. We believe this is unique and very important to what we do. As one Alpha House Resident put it:
"The drug of choice may be different, but we all have that common thread…We can help one another out… This is more intimate than other rehab programs."
We maintain a focus on holistic, habilitative care, with a passion for individuals who need additional support in developing daily structure and prosocial behaviors, including those with a forensic background. Alpha House is the product of a decades-long labor of love championed by well-known community leaders. Seeking to mitigate the barrier of stigma, our program acknowledges and addresses intersectional issues such as trauma, generational oppression, and adverse life events that often drive active use. Our treatment program is innovative in that we recognize and communicate on the social determinants of health and other key variables that have a direct impact on overall wellness and long-term recovery.
Our Board of Directors
Roxanne Plater
President
Adam Beers
Vice President
Sarah Daly
Secretary
Sylvia Gibson-Withrow
Officer
Donald Talley
Officer
Our Staff
Tonisha Wilson, MSW
Executive Director
Sarah Lynn Gorzelsky, LPC, CTP, CAADC
Director of Operations
Zachary Pollack, M.S., NCC
Lead Counselor
Abigail Lloyd, M.S., NCC
Counselor
Joe Nevarez, CRS
Certified Recovery Specialist
Sean Nestor, CPS, CRS
Assistant Counselor
Sharon Atkinson
Monitor Supervisor
Heather Roney, CFRS, CRS
Night Monitor
Pamela Smith
Night Monitor
Carrie Bumbaugh
Night Monitor
Janel Ganaway
Program Assistant
Debra Banach
Accounting Specialist
Stephen Yannotti, AA, CDL
Facilities Manager
Need More Information?
Substance use disorders impact everyone. Whether you're seeking treatment for yourself or someone you love, Alpha House staff are happy to answer questions and provide more information about our treatment program.
Help Support Us
With your support, we provide housing, meals, toiletries, and other essential items that benefit the physical and mental health of our residents.
Support Us